How do you know when all the mice are gone from your home?
You can sense victory. The war is over, or so you think! Has your mouse infestation concluded?
How do you know if you're safe from all the diseases that mice can bring to your home?
So many questions. In this post, I will give you some tips for ensuring that all the mice have left your home!
If it is good news and all the mice HAVE left, you need to tighten up and fix any mouse entry points so they can't get back in.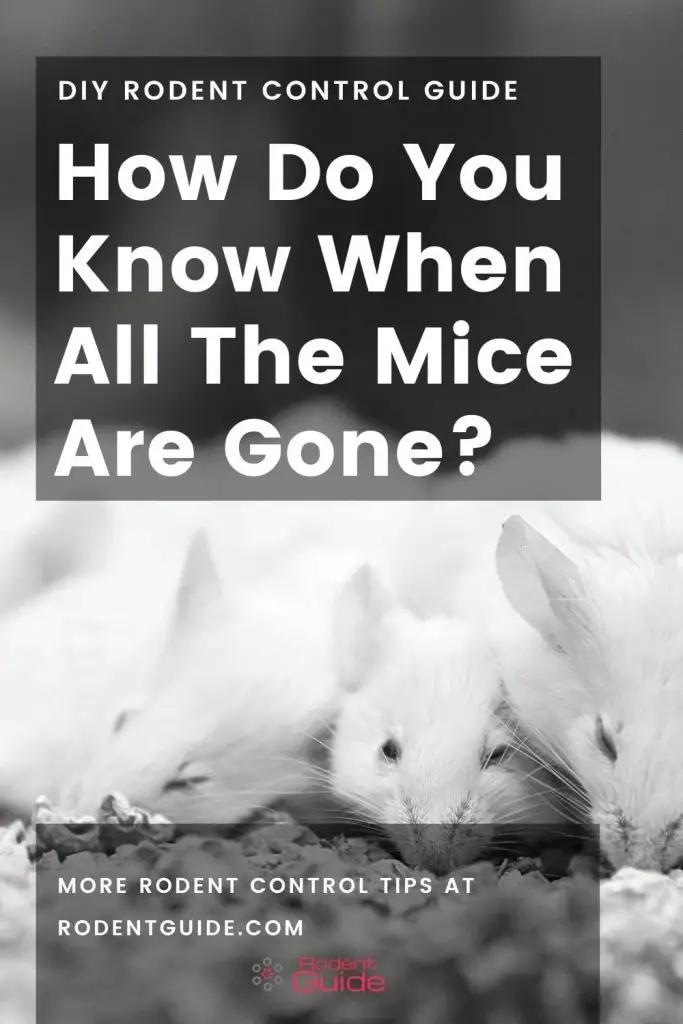 ---
Mice Infestation? Time To Take Action
If you are like me, you will become obsessed with every mouse-like noise you hear around your home.
Every so often, you will hear it.
Sounds in the walls, sounds in your attic, cat or other pets acting strange! These are all signs that you have a mice infestation.
But…now you think you may have cracked it, right? You've got dealing with mice down to a T… Do you think you might have got rid of every mouse that has infested your home? Your DIY pest control has worked!
Or has it?
Let's look at what you can do to know 100% that all the mice have gone, and you can forget the mice infestation you have just battled with.
---
How Do You Know When All The Mice Are Gone?
Want to know how to tell if mice are gone from your home? The biggest clue is that you no longer hear mouse-like noises in your home.
You can perform other tests to ensure they are gone, such as checking for nests and mouse droppings or leaving mouse traps around your home.
Here is a quick rundown of how you can be confident the mice have gone:
No more mouse noises -This is the biggest hint that all the mice are gone. If you do not hear noises, it is an excellent sign!
No nests in your home – If you do not have a mouse nest, you can be confident that you do not have an infestation.
Mouse droppings have stopped – No more droppings on the floor or in the attic? That is a great sign.
No new gnawed items – If no more items are chewed up, you win!
The smell has improved – There is no doubt that mice make your home smell terrible. When the freshness returns, it could mean they have all left.
No evidence of footprints – Place talc or flour in areas where you have noticed mouse activity. If there are no footprints, it is an excellent sign that you have no more mice in your home.
Nothing caught in the traps – Means no more mice!
---
How to Tell If All The Mice Are Gone – Our Guide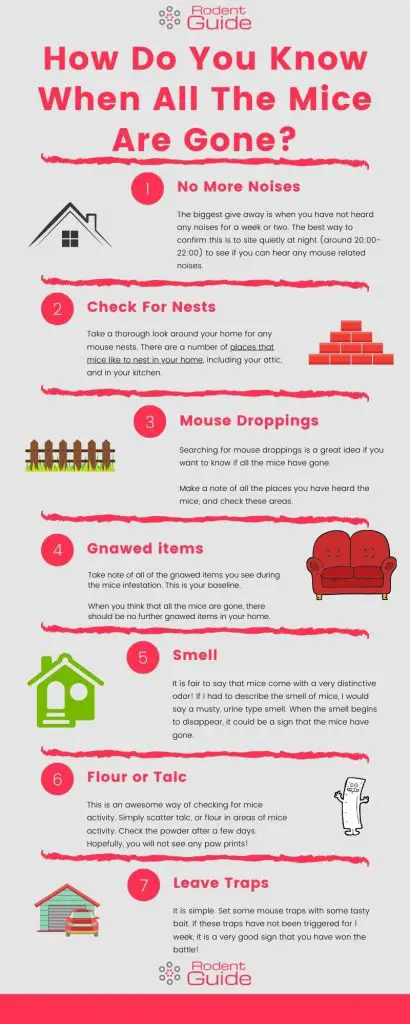 ---
1. No More Noises
The biggest giveaway is when you have not heard any noises for a week or so.
One of the most common signs of mice is hearing scratching or scurrying noises in your attic.
While you will most likely hear these noises at night, you may hear noises during the day too.
If you didn't hear any mouse-related noises last week, it is an excellent sign that all the mice have gone. A massive tick in the box!
It goes without saying that if you hear noises (mostly at night because mice are nocturnal), you still have an issue with mice.
I am afraid it may not be time to stop rodent control.
---
2. No Mores Mouse Nests
If you find a nest, you could face a mouse infestation.
Check the common places a mouse will hide in your home, and scour the local area for any signs of a nest.
You are looking for an area with many chewed items, usually buried deep in your insulation material in your attic!
Other signs include an extensive collection of mouse droppings and a powerful smell of mouse urine.
---
3. No More Mouse Droppings
Droppings scattered throughout your home are one of the common signs of mice.
It would be best if you always cleaned up droppings as soon as you found them. There are two reasons for this:
It will lower the chance that you will contract a nasty disease.
You will notice any fresh droppings, indicating the mice are still around.
Always ensure that you clean the area thoroughly too. Bleach or vinegar are good products to use to clean up the area where you found the droppings.
When you have not seen any new mice droppings for over one week, it is a sign that they have all gone.
If you see many mice droppings, you still have a mouse infestation. It is time for some DIY pest control!
---
4. No More Gnawed Items
Take note of the gnawed items you see during the mice infestation. There will be plenty of them, especially in your attic or basement!
When you notice the lack of freshly chewed items, it signifies that all the mice have left your house.
If you have mice in your home, they will chew items regularly. If you note all the things as you find them, you can quickly identify any new items that a mouse may have chewed.
---
5. The Odor Has Gone
It is fair to say that mice come with a very distinctive odor. It is even worse when you stumble upon a dead mouse!
To clear up the odor associated with mice infestation, you must go through your house and clean up any evidence of mouse urine and droppings.
Once you have completed this, you should be:
If you go a week or so without smelling any fresh urine, it is one of the signs that the mice have gone.
---
6. Scatter Talc To Identify Footprints
One trick you can play is to scatter flour or talc around areas where you know that mice frequent regularly.
You must use non-scented talc! Mice have a very keen sense of smell, and they avoid anything new in the areas they use to travel.
Once you have scattered the flour or talc, check it daily for evidence of tiny footprints. If you have found and cleared away a mouse nest, you should be hitting that area with the powder!
If there are no footprints in the flour or talc after one week, hunt your home for other signs that the mice are all gone. This is a good sign on its own, though!
---
7. Leave Traps to See If Any More Mice Are Caught
By leaving mouse traps in the best places, you can attack the mice problem or help to confirm the mice have gone.
I recommended purchasing two or more mouse traps for increased confidence in successful capture.
Load all traps with tasty mouse bait (again, to ensure you are successful) and wait. Going a few weeks without catching any mice will indicate that all the mice have left your house!
While we are on the subject of food, you probably noticed during the infestation that you had chewed-up food items to contend with. Another sign that assures you that all mice are now gone is that no more food items are being chewed.
---
The Job Is Not Over Yet!
When you have followed the signs above and are confident that all the mice have gone, congratulations, you have moved past the first step!
Your next task is to ensure the mice do not come back again.
How do you do that?
Seal all mice entry points
Clean your house thoroughly – get rid of mouse urine odor
Set up mouse traps in your attic and basement
Get a cat (If you haven't already!)
Store food correctly
Learn what mice can chew through
You must protect your house, the people who live there, and your belongings from future mice invasion!
Remember, you must be fully protected when cleaning your home after a rodent infestation.
Recommended gear includes:
I always wear these when tackling a rodent infestation. You need to consider your health at every step of the process.
---
How long before you know the mice are gone?
If you have followed all the steps in this guide and put down mouse traps, you should start seeing results within a few days. However, it can take up to two weeks for all the mice to be caught.
If you're still seeing mice after that time, there may be more than you thought, and you may need to put down more traps.
---
Can mice disappear?
The short answer is: no, mice cannot just disappear. If you have seen mice in your home and then they seem to vanish, it's likely that they are still there – they've just found a hiding spot where you can't see them.
If you're concerned that there may be mice lurking in your home, there are a few things you can do to check for their presence:
Look for signs of mouse activity, such as droppings or gnawed food packaging.
Listen out for any skittering noises coming from within walls or under floorboards.
Set up a few mouse traps around the suspected areas and check them regularly.
---
How many mice are usually in a house?
There is no one answer to this question as it can depend on several factors, such as the size of the house, whether there is food available, whether other animals are present, and how long the mice have been present.
If the mice have been in your house long enough to set up a nest, you could have an infestation on your hands within weeks.
---
Conclusion
How do you know when all the mice are gone? No ONE sign will 100% guarantee that all the mice are gone from your home. You must check ALL the signs on this page before you can be 100% certain.
I said it earlier in this post and I will reiterate here, it is vital that you follow up on protecting your home when you confirm it is 100% rodent free. Knowing how to get rid of the mice is one thing, but it is up to you to ensure they can't get back in.
Mice and other rodents can spread nasty diseases, and you will want to live in a safe, secure, disease-free, infestation-free home.
You can eliminate mice with knowledge, traps, peanut butter, and patience!
Good luck.